Teen Court
A Pre-Trial Intervention Program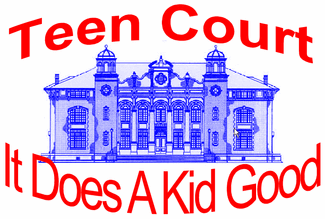 Teen Court was implemented in Sumter County by Gloria R. Hayward, Clerk of Circuit Court, in October of 1997.
It is a diversion program for first-time juvenile offenders who admit their guilt. Guilt is not an issue in Teen Court, it is strictly a sentencing phase. Those who are accepted and successfully complete the program will have their charges dropped by the State Attorney.
Teen Court is based on the philosophy that juveniles judged by a jury of their peers are less likely to continue their unlawful behavior.
With the help of teen jurors and attorneys, defendants in Teen Court achieve a true understanding of the consequences of breaking the law and are held accountable for their actions.
Additionally, Teen Court provides a valuable learning opportunity for our youth in Sumter County. The students who serve as volunteer attorneys, clerks, bailiffs, and jurors are given a unique insight into the legal system and the inner workings of a courtroom. Participation in Teen Court helps these teens develop self-esteem while exposing them to future career options in the legal and law enforcement fields.
Teen Court also provides volunteers with community service hours which can be applied to meet scholarship requirements.
How do I Help?
Student Volunteers interested in serving as jurors, prosecutors, defense attorneys, bailiffs, and clerks are always needed. Training sessions are scheduled periodically throughout the year.
Student Volunteers Requirements:
Must between 10 and 17 years of age.

Must turn in a volunteer waiver form.

Must be available from 5:00 pm to 7:30 pm the 1st Tuesday and 3rd Thursday of each month.

Must abide by the rules of the program.

Must abide by the "Oath of Confidentiality"
Newsletters
COVID19 and Effects on Teen Court
Please check back here often as we will be posting updates and information as we shuffle around Teen Court and related activities.
Teen Court April Home Assignments
Teen Court May Home Assignments